Stena Line Ferries
You can book a Stena Line ferry across the Irish Sea to Ireland from Wales, England and Scotland. You can also book Stena Line ferries to Holland from England and between France and Ireland. In addtion, Stena Line offer many other routes in Scandinavia and the Baltic states. For the latest Scandinavia prices, see our Stena Line Scandinavia page.
Stena Line is one of the world's leading ferry companies and offers the highest levels of comfort and service on board its ferries. AFerry always has cheap prices for Stena Line ferries and the latest special offers. You can book Stena Line ferries to Belfast, Dublin, Dun Laoghaire, Fishguard, Harwich, Holyhead and more. For all routes and for the latest Stena Line prices and sailing times see below. Click on your ferry route for a detailed timetable.
Stena Line Ferries Routes
5 crossings daily
2 hr 22 min
Get price

1 crossings daily
7 hr
Get price

3 crossings weekly
17 hr
Get price

4 crossings daily
2 hr 30 min
Get price

2 crossings daily
3 hr 15 min
Get price

4 crossings daily
3 hr 15 min
Get price

6 crossings weekly
9 hr 15 min
Get price

2 crossings daily
9 hr 31 min
Get price

6 crossings weekly
14 hr 30 min
Get price

1 crossings daily
4 hr 15 min
Get price

Harwich to Hook of Holland

/

Hook of Holland to Harwich

1 crossings daily
7 hr
Get price

4 crossings weekly
26 hr
Get price

1 crossings daily
7 hr 30 min
Get price

3 crossings daily
6 hr
Get price

7 crossings weekly
4 hr
Get price
On board Stena Line ferries
Note that Stena Line is also sometimes spelt StenaLine but it is the same company.
Stena Line operate three types of craft on its routes to and from the UK all of which are modern and comfortable with the latest in on board facilities.
Stena Line operates conventional cruise ferries on most of its UK based routes. These ships have many facilities including lounges, play areas, shops, wi-fi access, bars, cafes and restaurants as well as a choice of comfortable en-suite cabins.
However, if you travel on one of Stena Line's high speed ships, you will travel on one of the biggest fastcraft vessels in the world. Powered by jet engines, they can reach 75 kilometres per hour. On board you will a bar, an observation lounge, premium Stena Plus lounges, a cafe serving hot and cold snacks and a bar with movies.
---
Whether you take the Stena Line Belfast Cairnryan route, the Stena Line Holyhead Dublin ferry, the Harwich Hook of Holland service or any other ferry route from Stena Line, you are bound to have a relaxing and enjoyable trip with this famous international ferry company.
Pet Booking Information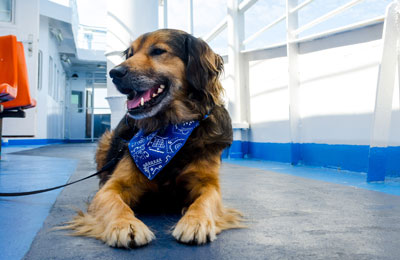 You can book your cat or dog on board a Stena Line ferry with AFerry.Just choose your route and then select the number of cats or dogs you are sailing with.
Your pet is not allowed onto the passenger decks onboard the Dublin/Dun-Laoghaire and Holyhead & Rosslare-Fishguard or the Belfast-Liverpool route and must remain in your vehicle. Small dogs are permitted on board on the Belfast-Cairnryan route if they are secured for the duration of the crossing in a pet traveller case. However, this is at the discretion of Stena Line personnel.
Foot passengers may bring small pets in a pet traveller's case, but they will be placed on the car deck for the duration of the journey in the routes above, as no animals are permitted in the passenger areas on board.
On the Belfast to Liverpool route pets are not permitted in cabins or other passenger areas onboard. You must book a dog kennel which are available on the Promenade Deck and allow access to your pet throughout the crossing. Please do this by calling our customer service department prior to booking. Use the details in the contact us section of the site to do this.
Note that you a need a pet passport to travel between the UK and Ireland. For more information on pet passports, please read our Pet Travel Guide.
Stena Line Ferries with AFerry
If you want to travel in luxury and style to your destination then you should look no further than Stena Line ferries. As one of the leading ferry lines in the world, you can rest assured that you'll receive a quick and hassle-free experience onboard their magnificent ferries.
Why StenaLine?
Many people come to us for Stena Line ferries as we offer low fares and fantastic destination times. When a person travels onboard a Stena Line ferry they can travel to the UK, Holland and Ireland. StenaLine are an incredibly popular ferry company as they are dedicated to providing unrivalled hospitality, and their exquisite interior will make a traveller feel right at home.
Stena Line Ferry Destinations
Whether you're travelling to Wales, Ireland or Holland, you should make sure you come to AFerry for StenaLine tickets. You can book a Stena Line ferry to Belfast, Liverpool, Dublin, Dun Laoghaire, Fishguard, Harwich, Holyhead and many more fantastic destinations. Simply take a look at our magnificent destination timetable below for the best times and the latest Stena Line offers. You should also check out our StenaLine Scandinavia page for ferries to this wonderful Northern European region.
Affordable Stena Line Offers
If you've been searching the internet for the very best Stena Line offers then you'd be crazy not to come here to AFerry. We provide competitive and affordable Stena Line ferry tickets which our industry rivals would struggle to compete with. Whether you are travelling on foot or by car, we are confident that you won't find better Stena Line offers elsewhere. We also offer a range of Stena Line crossings so you can travel at a time that suits you.

So, if you want to book Stena Line Ferries then you should make sure you come here to AFerry.

666 777 888
Video