Spain Travel Guide
Almost 65 million tourists headed to Spain in 2014, making it one of the most visited countries in the world. The ideal way to explore Spain must be by car or public transport. So why not take a ferry to Spain and really have your holiday your way. You'll also have the chance to discover unspoilt parts of the country and escape from the typical holiday hot spots.
With its many sea ports like Barcelona, Santander, Bilbao, Cádiz, Malaga and Balearic Islands among others, taking a ferry to Spain is an ideal way to enjoy the sun, superb food, local wine, monuments and hospitality.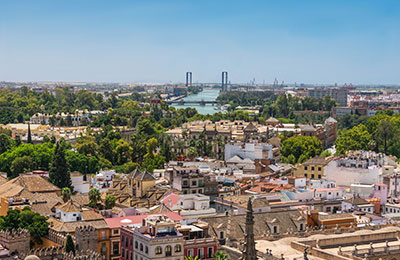 All around the Spanish coast there are splendid beaches, historic ports along the Bay of Biscay and the Bay of Cádiz (also one of the oldest cities of Europe), lush green valleys at the Picos de Europa, which are among Spain's highest peaks, rising abruptly from the sea, and dotted with quaint mountain villages. Spain's climate varies, being more rainy in the north and hotter and dryer in the south. Any time of the year is a good moment to visit Spain, although July and August can be very hot.
---
Travelling in Spain
There are Spain ferry sailings from Algeciras to Tangier and Ceuta (North African enclave); Málaga and Almeria to Melilla (North African enclave); Barcelona, Valencia and Alicante to the Balearic Islands; and Cádiz to the Canary Islands.
By train, the AVE high speed rail service connects Madrid and Seville in 2hr 15m -stopping at Ciudad Real, Puerto Llano and Córdoba- and also Barcelona and Seville in 5hr 30m -stopping in the mentioned places, Madrid, Zaragoza and a few more.
By car, motorways are well-maintained and connect Spain north and south - some of these are toll roads. Main roads between major cities are fast and well-maintained.
---
Things to see
As well as spending time in the magnificent cities of Barcelona, Madrid and Seville there are other cities that worth a visit, like the ancient Spanish capital of Toledo. The city is dominated by the magnificent cathedral and Alcazar and is proud of its collection of paintings by El Greco, who lived and painted in Toledo.