Poole Ferries
Poole is on the South Coast of England in the county of Devon and is a popular tourist destination thanks to its beaches and the vibrant town centre. You can compare and find the cheapest ferry crossings available from Poole with our easy to use booking form. Three ferry companies operate out of Poole - Condor Ferries, Brittany Ferries and LD Lines. Below, you can find all the Poole ferry timetables, journey times as well as our best prices.
Poole Routes
Cherbourg to Poole

/

Poole to Cherbourg
Poole Special Offers
8 days in France from £99 pp for car + 2 people return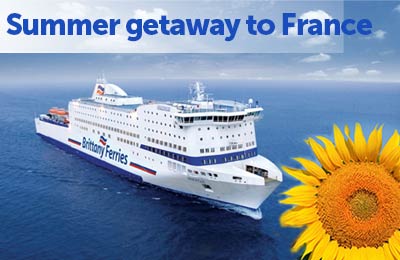 Book by 04/07/2019. Travel until 30/08/2019.
Sail with Brittany Ferries for 8 day return breaks from only £198 for car + 2 people, that's just £99 per person. Motorcycle and rider £99 return. Routes: Portsmouth to Caen, St Malo, Cherbourg and Le Havre. Poole to Cherbourg and Plymouth to Roscoff. Travel until 30 August 2019. Book by midnight 4 July 2019. Travel can commence in UK or France.
Ferries to and from Poole
Condor Ferries is the only operator to provide a car ferry service to the Channel Islands from the UK. Departures from Poole to Guernsey and Jersey are seasonal - usually runnning from April to October and from Poole to St Malo from May to September. These Channel Island ferries also connect to St Malo in France. Condor Ferries are modern and well-equipped. All Condor ferries have a range of bars and dining options. On their fast ships you will find self service cafes and snack bars. Their larger conventional vessels also feature full restaurants.
Brittany Ferries Brittany Ferries operate ferries to England, France, Ireland and Spain and is the market leader in the Western Channel. From Poole, Brittany Ferries go to Cherbourg in North West France. Brittany Ferries' fleet is one of the most modern on the Channel. Onboard facilities include comfortable lounge areas, internet access and a wide range of bars and restaurants. On some larger vessels you may also find cinemas, children's entertainment and even nightclubs.
Poole port facilities
There are a collection of facilities including restaurants, cafes, a licensed bar and a full range of toilet facilities including disabled access.
Getting to Poole
If you take the M27, it runs out and becomes the A31. This will take you right into the centre of Poole.
About Poole
During World War II, Poole was one of the departure ports for the Allied Invasion of Normandy that took place on D-Day. Nowadays, it is the departure port for the most peaceful traffic of passenger ferries and small yauchts.
Book your ferry to the Channel Islands or France from this beautiful Devon town simply and securely with AFerry
Special Offers - Terms and Conditions
8 days in France from £99 pp for car + 2 people return
Subject to availability from a limited and variable allocation of space. New bookings only. Promotional conditions apply Travel can commence in UK or France. Additional supplements apply for extra passengers, pets, larger/over height vehicles plus trailers and caravans.