On board your ferry
Holyhead / Dublin
If sailing between Holyhead and Dublin, you can choose the Fast Ferry the Jonathan Swift. Travelling at a speed of 39 knots, you could arrive in just 1 hour and 49 minutes! You could also choose the conventional ferry the Ulysses. This is the largest car ferry on the Irish sea and offers an unparalleled sailing experience. On board both ships, you'll find comfortable seating and excellent cabins as well as a shop, restaurant and a café. The Jonathan Swift also features two bars.
Ireland / France
The Oscar Wilde is the most luxurious ship to sail between Rosslare and France with bright airy cabins, stylish lounges and a wide choice of entertainment and dining options. On board, there are three restaurants, a café and a shop. Every night there is also a very popular cabaret show and piano music at Oscar's Piano Bar. From the early afternoon until early evening there is also children's entertainment including a treasure hunt, disco and even a magic show!
Rosslare / Pembroke
The Isle of Inishmore is one of Europe's largest, well equipped, most modern car ferries. On board, as well as comfortable seating and large relaxing cabins, you'll find a shop, children's play area, a café and a restaurant.
Club class seating
If travelling between the UK and Ireland, you could also upgrade to Club Class Seating for a real taste of luxury and extra benefits including:
✔ Priority Boarding - express boarding for motorists.

✔ Reserved Seating - your very own comfortable seating area.

✔ Free Wifi in Club Class! with a state of the art satellite connection

✔ Complimentary Drinks and Snacks - teas, coffee, wine and minerals.

✔ Complimentary Newspapers

✔ Exclusive Lounge Bar - serving a wide range of delicious food and drink.

✔ Power Points - for laptops DVDs and mobile chargers (availability depending on ship).

✔ 10% Discount - on selected best-selling products.
Pet Booking Information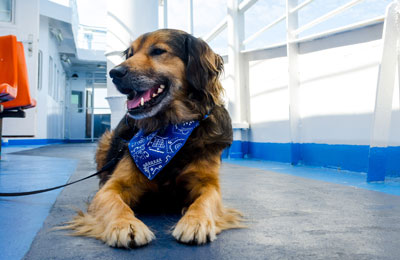 Routes between Ireland and Britain
To book your pet, just choose your route and then select the number of cats or dogs you are sailing with.
Pets can travel in the kennels provided or free of charge in your car. If travelling on foot, pets must be transported to and from the ferry in a secure, rigid and appropriate pet cage or box which you must supply. Family pets are not allowed on the passenger decks at any time. Guide dogs can travel with their owners and are welcome throughout the ship.
Note that you a need a pet passport to travel between the UK and Ireland. For more information on pet passports, please read our Pet Travel Guide.
Please note that pet booking online is currently not available on Irish Ferries' France routes.