Dover to Dunkerque Ferry
Dover to Dunkerque Ferry

See sailing schedules and the latest prices

Safe and secure booking

Feel confident booking with "The World's Leading Ferry Website"

Dover to Dunkerque Ferry

Find information with AFerry

Millions of satisfied customers

We're the biggest ferry website in the world and we have a dedicated customer service team, just in case
Dover to Dunkerque Ferry with DFDS Seaways - Prices from €54
Dover to Dunkerque Special Offers
25% off Motorcycles & sidecars Dover to France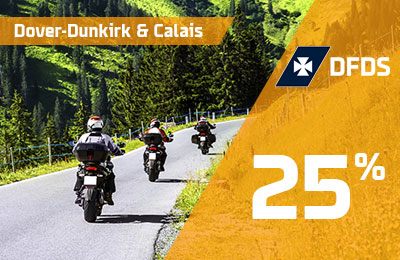 Book by 01/07/2019. Travel until 18/12/2019.
Get a whopping 25% off when you book your motorcycle & motorcycle with sidecar on the Dover-Calais and Dover-Dunkirk crossings with DFDS. Prices from £18.75. Applies to single and return journeys. Departure can commence in UK or France.
20% Off Dover-France sailings from Dusk to Dawn (10pm-6am)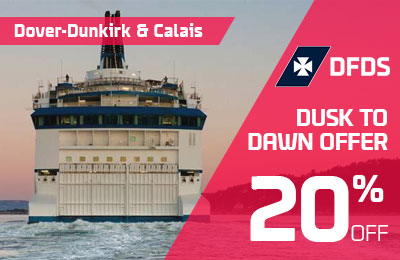 Book by 17 July. Travel all year on selected sailings.
Travel with DFDS from Dover-Dunkirk and Dover-Calais between 10pm and 6am & save up to 20% on your single and return fares. Travel until 31/12/2019. Prices from £36 for car + 9 people each way. Book soon as sailings fill fast!
Short Breaks to France from £35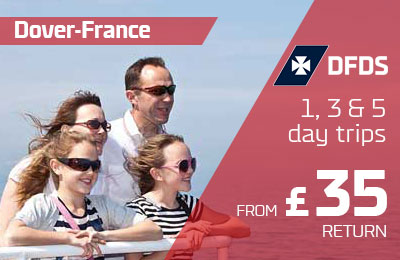 Travel before 17th December 2019, book this great offer and save.
Hop over to France and sail from Dover to Dunkirk or Dover to Calais and explore all that France has to offer. 1 Day returns from £35, 3 Day returns from £75, 5 Day returns from £85.
The Dover to Dunkirk ferry route connects Dover in Kent in south east England to Dunkirk in the Nord department of northern France. The route is operated by the ferry company DFDS. There are up to 12 crossings per day and the crossing time is approximately two hours.
---
When you search for Dover to Dunkirk ferries with AFerry, we also compare ferries to Calais with DFDS and P&O Ferries and Eurotunnel trains so you get the whole picture.
We also always give you access to the latest special offers and deals. There's no need to enter a voucher code.
Dover to Dunkirk is one of our most popular routes, to get your desired sailing we always suggest booking early.
Booking your crossing
Above you can click to see the Dover-Dunkirk timetable and you can also some of the latest prices our customers have found.
When use the booking form above, so you have the complete range of options to choose from, we also compare sailings to nearby Calais from all the companies on this route and also include Eurotunnel in our search results.
Once you've booked your ticket, you'll get an email confirmation. You don't need to print of an actual ticket before you travel. At Dover port just head straight up the departure ramp with your confirmation details and your passport - or other valid travel ID.
Why choose Dover-Dunkirk?
Dunkirk has excellent motorway links to major cities in France, Belgium, Germany and Holland.​​​
Popular cities for those travelling via Dunkirk include:
Bruges: 73 km. 56 minutes by car.
Lille: 79 km. 53 minutes by car.
Brussels: 156 km. 1hr 40 minutes by car.
The Hague: 295 km. 2hrs 58 minutes by car.
Cologne: 380 km. 3hrs 57 minutes by car.
There are up to 24 crossings per day on this route and the route and the ships on the route, currently operated by DFDS Seaways, are extremely comfortable.
Onboard Dover-Dunkirk ships
This route was formerly run by Norfolkline but now is run DFDS Seaways.
On board DFDS Seaway's ships, there's a huge array of facilities. Why not can relax with a drink and admire the sea views? Or just watch TV in the lounge bar.
In the shop you'll find cosmetics, fragrances, beer, wine and spirits and souvenirs at great prices. Or if the weather is good, head out on deck for some sun-bathing.
You can also upgrade to the First Class Lounge for a small fee. In this quiet relaxing lounge you can enjoy:
Complimentary hot & cold drinks
TV, free Wi-Fi & plug points
Free newspapers
And if you feel peckish, there are three options: the Restaurant, the Food Express Restaurant and the cafes and bars. With a huge range of affordable dishes, whether a steak pie or a cup of tea and pastry, you won't be let down.
About Dover
Dover is the most popular port in England, and the gateway to France for many British tourists. Dover faces the narrowest part of the channel, and on a clear day you can see France from the ferry port. You can book ferries from Dover to Calais or Dunkirk with AFerry. With so many reasons to travel by ferry it is no surprise that Dover ferry routes are some of the most popular ways of travelling to or from the UK.
As the shortest channel crossing between England and France, Dover has been a popular port for people who wish to explore mainland Europe. The iconic chalk cliffs have become known as the White cliffs of Dover, and can be seen for miles across the channel. Dover prides itself in its transport services and tourism, and has 3 museums; the main Dover Museum, the Dover Transport Museum and the Roman Painted House.
About Dunkirk
Dunkirk Ferry Port is situated across the Channel from Dover on the coast of northern France. The Port of Dunkirk is France's third largest port, because it is conveniently located between London, Brussels and Paris. Dunkirk allows passengers to quickly and efficiently embark, or disembark at the port, making it more convenient than the nearby port of Calais (45km away), which has far more sailings per day.
Dunkirk is a city that has a lot to offer, from shops and great traditional restaurants, to sandy beaches and a brand new golf course.
From Dunkirk port, you can easily reach the two covered shopping malls in the city centre, with all major brands and free car parking facilities available.
Dunkirk has 15 km of beautiful sandy beaches, known as the "Dunes de Flandre", making it an ideal holiday destination for families and surfers.
In Dunkirk you can taste original Flemish food as well as fantastic fresh local seafood. Dunkirk is also well known for its new 27-hole golf course, which is located just 15km from the port.
Special Offers - Terms and Conditions
25% off Motorcycles & sidecars Dover to France
Discount applicable to Motorcycle vehicle types only, other vehicle types are bookable but will not return 25% discount. All other Standard EC Economy Terms and conditions apply.
20% Off Dover-France sailings from Dusk to Dawn (10pm-6am)
Save 20% on selected late night and early morning crossings departing from Dover. Subject to availability. By booking this special summer offer for discounted travel at night and early mornings on selected dates you can only travel on the specified crossing(s) booked, you cannot make amendments AND you cannot get a refund. Excludes Sailings departing Dover on the following dates: July 21/22/28/29: August 04/05/11/12:
Short Breaks to France from £35
Terms: Subject to terms and conditions. Excludes these dates: February 15-17, 22-24, April 5-7, 12-14, 19-21, 26-28, May 24-26, 31, June 1-2, 14-17, July 11-31, August 1-31, September 1-4, October 18-20. Offer is available on return bookings only, with a car and up to 9 people - or with a motorcycle, with or without side car and up to 2 people. Outward journey must start in Dover. Offers may be withdrawn at any time.