Ajaccio to Marseille Ferry
Ajaccio to Marseille Ferry

See sailing schedules and the latest prices

Safe and secure booking

Feel confident booking with "The World's Leading Ferry Website"

Ajaccio to Marseille Ferry

Find information with AFerry

Millions of satisfied customers

We're the biggest ferry website in the world and we have a dedicated customer service team, just in case
Ajaccio to Marseille Special Offers
Ferry to Corsica -50% off summer travel!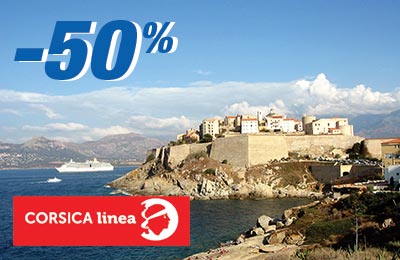 Book by 19/06/2019. Travel from 11/06/2019 to 29/08/2019.
Travel with Corsica Linea from France to Corsica this summer and get up to 50% off fares. Limited availability, book soon! From Prices examples (excluding taxes): Marseille-Ajaccio one-way: Car+ 1 €57: Car+ 2 €87: Car + 2 adults + 2 children €136.
The Ajaccio to Marseille ferry connects Corsica to France and is operated by Corsica Linea and La Meridionale. As well as comparing prices and times for Ajaccio to Marseille, we will also show you results for Ajaccio to Nice and Ajaccio to Toulon to help you get from Corsica to France at the best time, for the best price.
Book an Ajaccio to Marseille ferry today with AFerry. Just use the form above and choose the route that you want. If nothing appears automatically, start typing Ajaccio. You can also type the country or even the name of the ferry company you are interested in. When you have the route that you want, choose single or return and all the other options you want.
How we compare ferries, prices and times for Ajaccio to Marseille
If there is more than one ferry company operating on the Ajaccio Marseille route we will show you all the ferry companies, to make sure you get our best price. We'll also show you any routes similar to Ajaccio to Marseille so you have the complete picture when making your booking. And of course you'll also see a range of times just in case it's a bit cheaper earlier or later than your preferred booking time.
How you get your ticket and how you can make changes if you need to
Once you've chosen your perfect sailing and have made your booking we'll email you your booking confirmation for your Ajaccio to Marseille ferry. The majority of tickets have instant confirmation.
We will also email you details about how you can contact us using our messaging service, as well as details about how you can change your ticket. Most of the time you can do this by yourself. The vast majority of our customers give us a review of four or five stars showing that their very happy with our service and communication.
---
Below you can see the ferry company or companies that sail on the Ajaccio to Marseille route and the journey times. You might also see some recent prices our customers have found. The best way to find a cheap Ajaccio to Marseille ferry though is to use the form above today to see all of our possible choices.
Getting the best price for your Ajaccio to Marseille ferry
With AFerry we always give you our best prices for ferries from Ajaccio to Marseille. No matter which page you book from we always include all our special offers. And there is no need to look for a discount code. If we have an offer available, your ferry price will include the reduction or offer. There's no need to look at other websites.
If you're not sure if the Ajaccio to Marseille route is right for you or you can't decide between ferry companies, if there is more than one, you might also find it useful to read any reviews we have available. We ask all our customers to send us reviews for Ajaccio to Marseille ferries. Remember though, that the earlier you book, the cheaper prices normally are. So don't spend too long deciding! Ajaccio to Marseille is a popular route, so we advise you to book as soon as possible.
About Ajaccio
Ajaccio is the capital city of Corsica and one of the the best ports from which to get to the island from mainland France and Sardinia.
About Marseille
Marseille itself is a major centre of art and history, with many museums and galleries to visit. Most of the cities attractions can be found in the 1st, 2nd, 6th and 7th arrondissements. These include the Old Port, the lighthouse of Sainte Marie, the history museum and much more. Transport in and around the city is simple, with an extensive network of motorways connecting Marseille to the North, West and East, a railway station with direct services to Nice, Toulouse and Barcelona, and an extensive bus network that serves the city and the suburbs of Marseille.
Special Offers - Terms and Conditions
Ferry to Corsica -50% off summer travel!
Book by 19/06/2019. Travel from 11/06/2019 to 29/08/2019. 50% Discount available on routes from France to Corsica: Marseille-Ajaccio, Marseille-Bastia, Marseille-Île Rousse, Marseille-Porto Vecchio.